NRDC Member Stories
NRDC Legacy Leaders was founded to express our gratitude to members who have shown an exceptional commitment to NRDC's future by naming NRDC as a beneficiary of their estate or making a gift that provides payments for life. Legacy Leaders have chosen to ensure NRDC's work for a livable planet continues for generations to come.
The size of your gift doesn't matter.
Be assured that your gift can remain confidential.
As a Legacy Leader you will enjoy these special benefits:
Lifetime NRDC subscription to Nature's Voice & OnEarth
Listing as a Legacy Leader in NRDC's Annual Report
Complimentary one year gift membership to a recipient of your choice
Insiders' updates on NRDC's important battles in court and in Congress
Invitations to attend NRDC special events
---
Weaving Stories to Save Wildlife
Meet Noted Author Brenda Peterson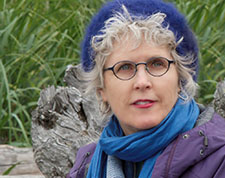 In 1998, Brenda Peterson helped break the story in the Seattle Times of military sonar blasting a Hawaiian humpback whale sanctuary. So, when she speaks of her commitment to the environment, she does so with authority. She was there at the beginning and, she says, "so was NRDC."
"In my 2004 novel, Animal Heart, I also wanted the story to be told about this lethal sonar—underwater and out of sight," Peterson says. "Stories can change the heart and our habitat." Jane Goodall called Animal Heart, "a haunting love story in a fast-moving plot." A National Geographic author, a memoirist, and novelist, Peterson's 17 books include her first kids' book, Leopard and Silkie: One Boy's Quest to Save the Seal Pups. Her new novel, The Drowning World, is set in a future of climate change and rising seas. Peterson donates book royalties to NRDC at www.BrendaPetersonbooks.com.
She has also included a bequest to NRDC in her will. "NRDC has fought side-by-side with me over the decades. When people ask, 'What can I do?' I tell them 'Pick one species, one lake, or one forest. Begin there. And support organizations like NRDC to protect our planet for generations."
---
Shari & Charles P.
An interview
Since their days as graduate students living on a small fellowship, Mr. and Mrs. P have watched NRDC "more than meet the promise we envisioned" when they first began supporting NRDC through membership donations in 1984. Recently, they included NRDC as a beneficiary in their wills.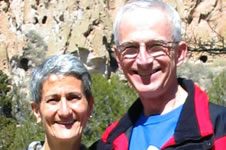 Mr. and Mrs. P are committed to giving back. Their careers in information technology, their significant community service, and their charitable giving have been focused on making a difference. As scientists, they always hope that credible scientific evidence and logical reasoning will rule the day. But recent decisions affecting public policy, from opinions about nuclear power to predictions of climate change, have the couple worried that perception too often trumps reality. More and more, they look to NRDC for help in separating fact from fiction.
You described a process you undertook a number of years ago to determine how you could be more effective with your charitable giving. Can you describe your approach and how you came to focus your giving on NRDC?
We used to write lots of small checks to several well-meaning environmental organizations. But eventually we tried to be more effective by giving a single, larger donation to the real leader in the field: NRDC. Its credible scientific information is frequently cited by major news media. Today, NRDC's fact-based assessment of issues is an important counterpoint to sometimes widespread unfounded or biased opinions. More importantly, NRDC is a solution-oriented consensus-builder. Although it will take legal action when necessary, NRDC excels at finding common ground on which to build effective solutions.
Why did you decide that your support of NRDC should be continued beyond your lifetime with a bequest in your wills?
Environmental problems won't disappear when we do; they may change in kind and magnitude, but they will continue to challenge peoples and nations as life evolves. So making a difference means working towards sustained environmental improvements now and in the future. Consequently, we supplemented our annual donations to NRDC with legacy donations, so that NRDC can spend more time focused on change.
---
Nigel R.
Pay It Forward
"I've had a wonderful life," says NRDC benefactor, Nigel R. "My wife and I have eight grandchildren and one great-grandchild. Now our priority has is ensuring that they inherit the kind of environment and life that we have enjoyed."
Nigel's appreciation for the natural world began early—he recalls roaming through verdant fields and woods as a child in a rural town in Surrey, England—and has remained constant ever since. He and his wife, Barbara, first joined NRDC in 1986. Thirteen years later, they decided to deepen their commitment to the organization by making a gift through their estate and becoming NRDC legacy leaders.
While Nigel realizes that compromise is sometimes an essential tool in winning better environmental protections, he also knows that stronger tactics are often needed. "There are many organizations doing good work on behalf of the environment," he explains. "But what really sets NRDC apart is the ability and willingness of the organization to take legal action, when necessary, to protect the environment." He goes on to say, "NRDC's staff attorneys and scientists make a powerful combination for NRDC and for our world."